The deaths of at least 39 migrants at a Mexican migrant facility south of the US border are under investigation as killings and arrest warrants are expected on Thursday.
At a news conference on Wednesday, Mexico's Security Minister Rosa Icela Rodriguez said prosecutors had identified eight people suspected of being responsible for the deaths at the migrant center in the city of Ciudad Juarez, less than eight miles south of El Paso, Texas on the other side of the Rio Grande.
Rodriguez said they included two Mexican federal agents, a Chihuahua state migration official and five members of a private security firm, Reuters reported.
"There is obviously a serious crime," Rodríguez reportedly said. "Those were human lives. It is unforgivable."
MEXICAN IMMIGRATION GUARDS WILL NOT RELEASE MIGRANTS WHILE DEADLY FIRE RAGED, VIDEO SEEMS TO SHOW
Video circulating on social media showed a male inmate in a cell kicking bars as the flames worsened. Uniformed guards appeared to disappear amidst the fire without helping the inmates get out. Officials said part of the investigation was checking whether a key to open the cell was available or if there was another way to pick the lock.
"Who didn't let these people out? There is clearly a felony," Rodriguez said, adding that the surveillance footage is part of the investigation. "They were unable to open a gate."
At the same event, Sara Irene Herrerias, head of the human rights branch of Mexico's Attorney General's Office, said no arrests had been made but a warrant was expected Wednesday night and through Thursday, according to Reuters.
Herrerias said an inquiry had been opened "into the crime of homicide and vandalism," although other possible offenses are being weighed, The Guardian reported.
"None of the public officials or private security personnel did anything to open the door to the migrants who were inside," she told reporters.
Rodríguez said the migrants being held at the facility were herded off the street earlier in the day when neighbors complained of begging, the Los Angeles Times reported.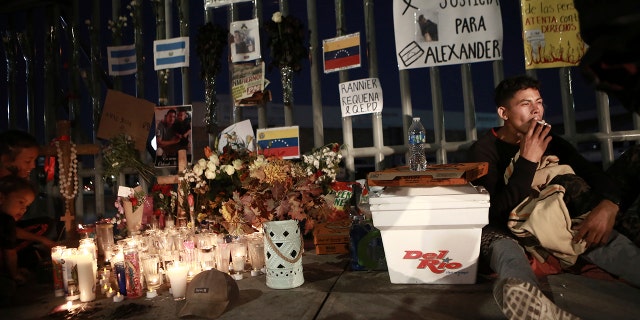 Mexican President Andrés Manuel López Obrador has promised there will be "no impunity" for the tragedy.
"There is no intention to cover up what happened, no intention to protect anyone," López Obrador told reporters, according to the Times. "In our government we do not allow human rights violations or impunity."
FIRE AT MEXICAN MIGRANTS FACILITY KILLING 38 BEGINS WITH DEPORTATION PROTEST, PRESIDENT SAYS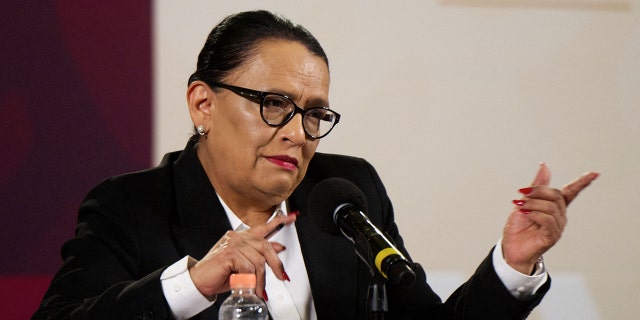 López Obrador said some of the migrants being held in the center are believed to have set the fire themselves to protest expected deportations. "They put mats on the door of the shelter in protest and set them on fire, not suspecting that this would cause this terrible tragedy," he said on Tuesday, according to Agence France-Presse.
Still, the Mexican president insisted that those responsible for "causing this painful tragedy be punished in accordance with the law."
The victims were all males and mostly from Guatemala, but others who died were from Honduras, Venezuela, El Salvador, Colombia and Ecuador, according to Mexican authorities. The Times reported that the death toll rose to 39 from 28 on Wednesday while others remain hospitalized, including 17 in critical condition, nine as "sensitive" and two as stable.
UN Secretary General Antonio Guterres called for a "thorough investigation".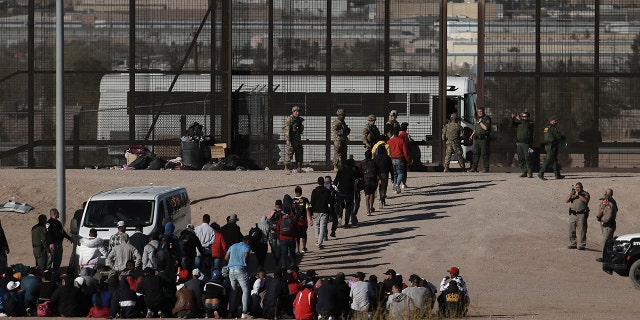 Tensions between authorities and migrants appear to have run high in Ciudad Juarez in recent weeks, where shelters are full of people awaiting opportunities to enter the US or for the asylum process to be completed, The Associated Press reported.
CLICK HERE TO GET THE FOX NEWS APP
The high level of frustration in Ciudad Juarez was evident earlier this month when hundreds of mostly Venezuelan migrants attempted to force their way across one of the international bridges into El Paso, responding to false rumors that the United States would bar them entry would allow into the country. US authorities blocked their attempts.
The Associated Press contributed to this report.


Source : www.foxnews.com