And so we are nearing the end of another hectic week in the markets.
The CBOE VIX Index VIX,
+7.57%,
the measure of stock volatility, rose twice to 30 before falling back down.
The ICE BoAML MOVE index, a VIX for the Treasury market, jumped to its highest level since the Great Financial Crisis of 2008, at one point more than 80% since early February.
These moves illustrate the whiplash in stock and bond yields as traders attempted to flesh out the severity of the unfolding banking crisis and how much it would affect central banks' ability to maintain their anti-inflationary strategies.
Fears that shocks in the financial sector could negatively impact the global economy – and some overly long positions – also caused oil prices to collapse.
Still, the stock market rallied on Thursday and the tone on Friday is at least superficially calm as investors appear bailed out by the authorities arranging support for Credit Suisse CS.
-6.95%,
and First Republic FRC,
-25.27%
in the USA.
But hold on.
The Federal Reserve has yet to expand its balance sheet after reporting late Thursday that banks used its new Bank Term Funding Program to borrow $11.9 billion this week. It also raised $153 billion through the Fed's discount window and $142.8 billion in bridge loans.
The market doesn't know who or how desperate these borrowers are.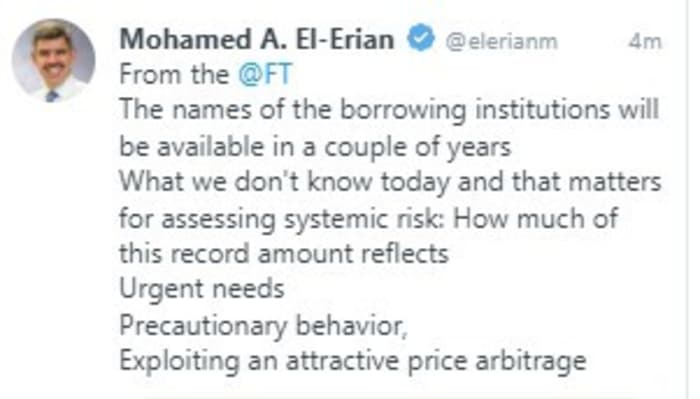 And others are concerned that recent measures to support the banking sector will not only paint over the cracks but potentially make things worse.
Hedge fund manager Bill Ackman isn't happy that systemically important banks (SIBs) have been tricked into recycling deposits they received from First Republic Bank (FRB) back to the troubled lender.
"The result is that FRB default risk is now spread across our largest banks. Spreading the risk of financial contagion to create false confidence in the FRB is bad policy. The SIBs would never have made this low-return investment in deposits unless they were pushed into it and without assurances that the FRB deposits would be protected in the event of failure." Ackman wrote in a tweet late Thursday.
"The press release announcing the $30 billion inflows raised more questions than it answered. A lack of transparency makes market participants assume the worst. I've said before that hours matter. We let days go by. Half measures don't work when there is a crisis of confidence," he added.
Ackman, who runs Pershing Square Capital Management and is not averse to an apocalyptic outbreak, said the banking sector needs temporary deposit insurance immediately until an expanded federal insurance system is widely available.
"We have to stop this now. We're past the point where the private sector can solve the problem and we're in the hands of our government and regulators. tick tock."
markets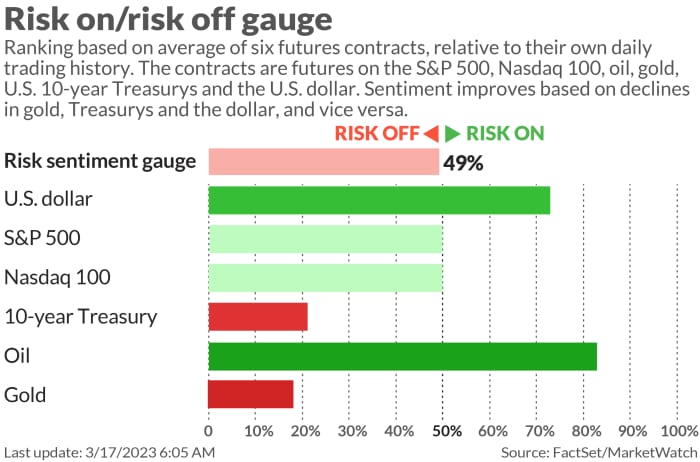 S&P 500 Futures ES00,
-1.01%
up 0.1% as 10-year government bonds lost TMUBMUSD10Y,
3.399%
fell 4.2 basis points to 3.542%. The dollar index DXY,
-0.29%
lost 0.3%, which helped lift Gold GC00,
+2.01%
down 0.7% to $1,936 an ounce.
Try your hand at Barron's Crossword and Sudoku games, now running daily, along with a weekly digital puzzle based on the week's cover story. To see all the puzzles Click here.
The Buzz
US economic data due today includes February's industrial production and capacity utilization to be released at 9:15 am, followed by February's leading economic indicators and March's consumer sentiment report at 10 am. All times Easter.
It's another quadruple Witching Friday that will see $2.8 trillion worth of options contracts expire.
Anyone who purchases FRC shares from First Republic
-25.27%
Thursday's open and close selling could have returned about 60% for the day. The recovery came after a consortium of major banks pledged $30 billion in deposits to the lender. However, shares are down 5% by Friday's opening bell after First Republic announced it was suspending its dividend to conserve cash.
FedEx Stocks FDX,
+7.65%
are up 11% in premarket action after the parcel delivery company delivered results showing cost reductions and the opportunity to raise prices contributed to its bottom line.
Shares in Sarepta Therapeutics SRPT,
-19.51%
fall 20% after the FDA announced it would convene an advisory committee on the treatment of the company's Duchenne muscular dystrophy.
The best of the web
Insights into Elon Musk's attempt to cut costs on Twitter.
The incredible tantrum of the VCs overturned the SVB.
The graphic
Here's CNN's Fear & Greed Index. It is a compilation of seven indicators: market momentum, stock price strength, stock price breadth, put and call options, junk bond demand, market volatility, and safe haven demand.
Eagle-eyed readers might notice that it fell into Extreme Fear – below the 25 line – before bouncing back into Fear this week. The last time the chart fell this low was in October 2022, marking a recent bottom for the S&P 500.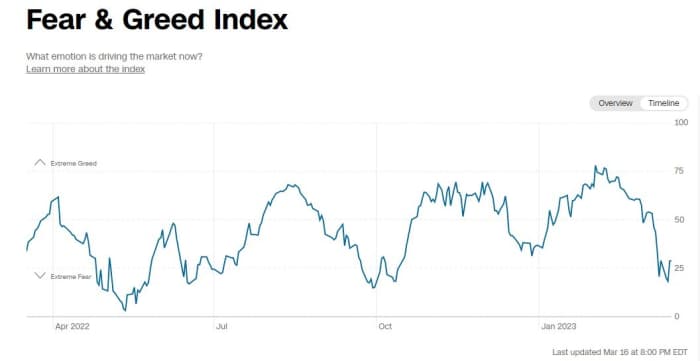 top ticker
Here were the most active stock tickers on MarketWatch as of 6 a.m. Eastern.
ticker

security name

TSLA,
-3.42%

Tesla

FRC,
-25.27%

Bank of the First Republic

BBBy,
-1.89%

bed bath beyond

GME,
-3.79%

GameStop

AMC,
-3.76%

AMC entertainment

HUBC,
+15.90%

Hub Cybersecurity

NVDA,
+1.18%

NVIDIA

CS,
-6.95%

Credit Suisse ADR

AAPL,
-0.74%

Apple

TRKA,
-4.63%

Troika Media
Random Reading
Rolls-Royce and the nuclear-powered moon base.
Spanish princess wears camouflage for three years.
Rival Colorado towns feud over a frozen dead man.
Need to Know starts early and updates up to the opening bell, but Login here to get it delivered to your email box once. The emailed version will be sent around 7:30am EST.
listen to this The best new ideas in the money podcast with MarketWatch reporter Charles Passy and economist Stephanie Kelton




Source : www.marketwatch.com