According to a report by cybersecurity company Uptycs, it found while searching for threats on the dark web.
The dark web is notorious for being a hub for illegal activity and a breeding ground for new malware, so it's not surprising that cybercriminals are actively targeting Mac computers. Here's everything we know so far.
CLICK HERE TO RECEIVE KURTS CYBERGUY NEWSLETTER FULL OF QUICK TIPS, TECHNICAL REVIEWS, SAFETY WARNINGS AND EASY HOW-TOS THAT WILL MAKE YOU SMARTER
What is the new malware doing?
The new malware is called MacStealer and is capable of stealing sensitive data stored in iCloud keychains, including passwords and credit card information. How these hackers proliferate the malware is still unknown, but it is likely distributed on fake websites or sent via phishing emails. All that is known is that the malware appears as a DMG file.
A variety of Mac browsers come under attack, including Google Chrome, Mozilla Firefox, and Brave. However, the malware can also collect Microsoft Office files, images, archives, and Python scripts from infected Macs.
ALWAYS DO THIS FIRST BEFORE DOWNLOADING ANY SOFTWARE UPDATE TO YOUR PHONE
Once MacStealer infects a Mac device, it opens a fake password prompt for users trying to gain access to their System Preferences app. Instead of granting the app access, the malware starts collecting the user's credentials. It then sends the stolen data back to a command-and-control server run by the hackers who distribute this malware using encrypted messaging app Telegram.
A hacking forum where the makers of MacStealer regularly discuss the malware has revealed that the cybercriminals are looking to add even more new features, including the ability to collect data from Apple's Safari browser and Notes app.
HUNDREDS OF BANKING APPS AT RISK FROM THE NEW ANDROID TROJAN NEXUS
How do I protect my Mac?
Update your software
One thing you can do now is open your Settings app on your Mac computer and make sure you have the latest software update installed. If not, install it now. Apple is constantly improving the security of its devices, so you need to make sure that all your Apple devices are always up to date.
word of caution: Always back up your computer to your Mac so that you can reinstall it if there are any problems with the update.
Use good antivirus software on all your devices
Antivirus software will protects you from accidentally clicking malicious links and removes any malware from your devices. See my expert review of the Best antivirus protection for your Windows, Mac, Android and iOS devices search "Preferably Antivirus" on CyberGuy.com by clicking the magnifying glass icon at the top of my website.
REVOLUTIONARY BREAST CANCER DETECTION: THE POWER OF AI
FREE ANTIVIRUS: SHOULD YOU USE IT?
Be careful which emails you open and which links you click on
You should also always make sure that you avoid opening emails from unknown senders and downloading any attachments within them.
Also, avoid clicking on links in the email without first checking them to see where they take you.
Don't fall for this new round of ICLOUD support scam emails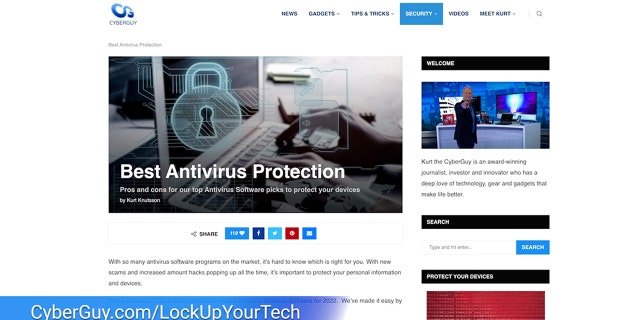 Have you noticed any suspicious activity on your Mac? Let us know below.
CLICK HERE TO GET THE FOX NEWS APP
To receive more of my tips, subscribe to my free CyberGuy Report newsletter by clicking the 'Free Newsletter' link at the top of my website.
Copyright 2023 CyberGuy.com. All rights reserved.


Source : www.foxnews.com