Draymond Green has a reputation for kicking things up a notch. It seemed like the Golden State Warriors forward had eliminated kicking players from the opposing team from his repertoire.
But after driving to a layup, Green ran into New Orleans Pelicans guard Herb Jones. The pair eventually tangled on the court before eventually being separated.
Then a scrum broke out as several players shoved each other before team security finally stepped in.
CLICK HERE FOR MORE SPORTS COVERAGE ON FOXNEWS.COM
It appears Green tried to kick Jones while the two were wrapped under the basket.
Early in the game, Green received his 17th technical foul of the season after Green got into an argument with Pelicans forward Brandon Ingram.
BULLS' ANDRE DRUMMOND DELETS SOCIAL MEDIA TO FOCUS ON MY MENTAL HEALTH
Green appeared to drop his shoulder and shove Ingram to the ground as Ingram drove to the basket in the second quarter. Ingram approached Green after the game, leading to a heated exchange of blows between the two players.
Green was also seen yelling at Warriors head coach Steve Kerr. Both players were issued technicals, with Green also receiving a flagrant foul 1 for the shove.
"I have to play with the same intensity that I try to play with every time I step on the pitch," Green said. "I can't worry about that. If I want to change my intensity level, why would I be outside?"
Green routinely does things on the pitch to get his teammates going. The Warriors rebounded from a 20-point deficit to a decisive 120-109 win over New Orleans.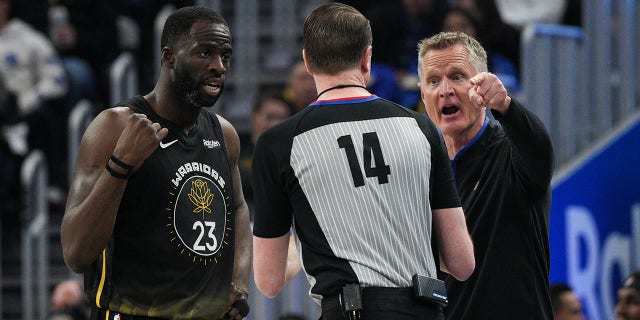 Green, a four-time NBA All-Star, was previously suspended for one game after committing his 16th technical foul.
He now faces a $5,000 fine unless the technical foul is overturned within the next 24 hours. If he ends up paying a fine, Green doesn't seem to mind.
"It was perfect. Perfectly executed," Green said. "In the first 18 minutes we looked dead. We had to find some energy somewhere. It wasn't going to come easy, especially after we lost the game like we did in the last game; that can continue. I had a feeling that it was so. I knew it." we had to do something, and do it quickly, before the game got out of hand."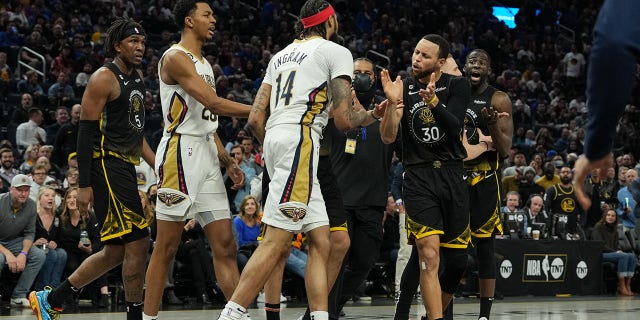 After the scrum with Jones, Kerr decided to take Green out of the game for a short time.
But Kerr said Green's reaction was justified.
"We need his fire," Kerr said. "Draymond helped us win tonight. His early frustration with how we played. angry at the world.
CLICK HERE TO GET THE FOX NEWS APP
The victory over the Pelicans helped lift the Warriors (40-37) to 5th place in the Western Conference standings.


Source : www.foxnews.com