President Biden and White House officials have repeatedly blamed previous administrations for the recent approval of a massive oil drilling project in Alaska.
On March 13, after numerous delays, the Department of the Interior (DOI) approved three of the five drill sites proposed by oil company ConocoPhillips as part of its Willow project in northern Alaska's National Petroleum Reserve. While the DOI gave the final seal of approval, President Biden played an active role in approving the project, which is expected to produce 576 million barrels of crude oil over its 30-year lifespan.
But despite Willow's expected popularity in Alaska and expected economic benefits — in addition to its projected oil production, ConocoPhillips said it will create more than 2,500 construction jobs, create 300 long-term jobs and deliver up to $17 billion to local and state taxpayers – The Biden administration has opted not to accept credit for project approval.
"The difficult decision was what to do with the Willow project in Alaska, and my strong inclination was to disapprove of it across the board," Biden told reporters Friday.
MASSIVE OIL PROJECT STARTED CIVIL WAR WITHIN BIDEN ADMINISTRATION, LEGISLATIVES SAY
"But the advice I got from a lawyer was that we could very well lose this case in court – lose this case in court to the oil company – and then not be able to do what I did really wants to do beyond that, and that means significant portions of the sea and land of Alaska will be preserved forever," the President continued.
Additionally, DOI Secretary Deb Haaland released a video statement hours after her agency released the decision on March 13. In the video, she explained that Willow was "a difficult and complex problem that was inherited."
"These are existing leases that were issued by previous administrations back in the '90s," Haaland continued. "As a result, we have limited decision-making power."
AOC, TOP DEMOCRATS QUIT BIDEN OVER FAILED CLIMATE PROMISES
Haaland, who opposed the project as a member of Congress, notably did not sign the decision record or release a statement in the department's original announcement. Instead, DOI Assistant Secretary Tommy Beaudreau signed the document outlining the agency's actions.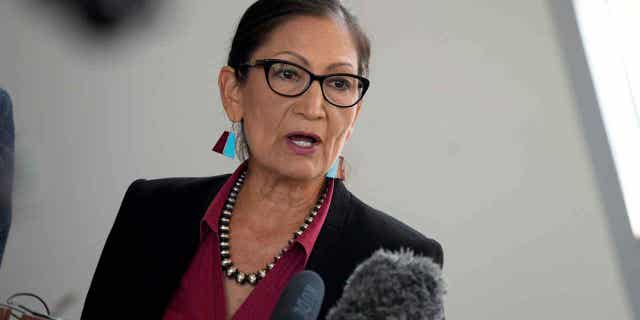 And during press briefings after the approval was announced, White House press secretary Karine Jean-Pierre similarly suggested that the government had no choice but to greenlight the project.
"Look, the President has kept his word when — if he can — where permitted by law. Correct? That's important to note," she said on March 16. "As the Home Office said, some of the company's leases are decades old, granted by previous administrations. The company has a legal right to these leases. The department's options are limited where legal contracts are in place."
"The step the Home Office had to take was because of certain legal restrictions. We have to remember that," Jean-Pierre added days later. "Those were Le- — that was part of a legal sort of decision, as I explained last week."
GOP OPENS INVESTIGATION AGAINST BIDEN ADMIN FOR OBSTACING US ENERGY PRODUCERS WITH 'RADICAL ECO-AGENDA'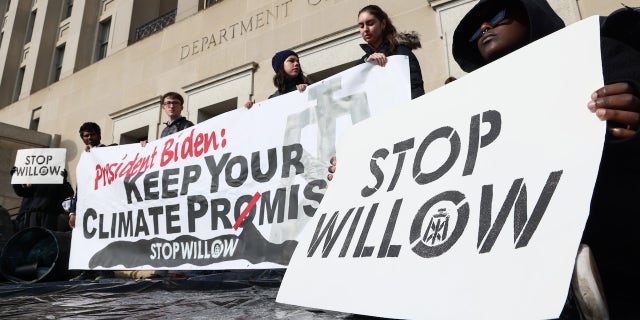 A White House spokesman referred Fox News Digital to Biden's comments Friday when asked if Willow was allowed because of its economic benefits or because of legal requirements.
However, the Biden administration has previously revoked mineral leases, opted not to issue permits to existing fossil fuel leases, and canceled lease sales. In September, the DOI agreed to a settlement with environmental groups and blocked drilling on 113 existing leases covering 58,617 acres in Montana, North Dakota and South Dakota.
CLICK HERE TO GET THE FOX NEWS APP
Some of the same environmental groups involved in this case filed a federal lawsuit on March 15 challenging Willow's approval. The lawsuit argued that the DOI decision was "based on the erroneous belief that it must allow ConocoPhillips to fully develop all commercially recoverable oil on its leases."
Overall, ConocoPhillips is Alaska's largest oil producer and owner of exploration leases. The Company owns 1.6 million acres of vacant acres statewide.


Source : www.foxnews.com