Three Democratic lawmakers in the Tennessee State House joined the pro-gun control protesters who marched into the state capital following Monday's tragic shooting in Nashville.
Chants of "no justice, no peace" and "save our children" echoed through the chamber of the Tennessee House of Representatives as pro-gun control protesters stationed themselves both inside and outside the State Capitol Building.
Three Democratic lawmakers — Reps Justin Jones, Justin Pearson and Gloria Johnson — brought Tennessee's lower house to a halt as they joined the chanting of protesters.
LEGISLATORS WALK INTO THE HALLWAY YELLING FIGHT OVER GUNS, WHILE DEMOCRAT CALLS REPUBLICANS "COWARD".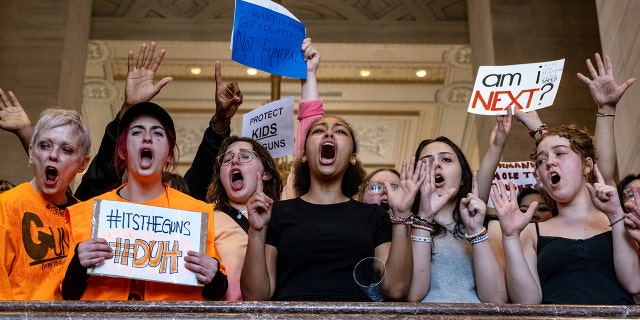 "Power to the people," Jones shouted through a megaphone on the chamber floor.
The protests followed a Wednesday evening candlelight vigil for the six people killed at Nashville's Covenant School.
Protesters called for a ban on assault weapons after the mass shooting, and federal lawmakers representing Tennessee are taking action.
US Senators Marsha Blackburn and Bill Haggerty, both Republicans from Tennessee, announced on Thursday that they will introduce it Safeguarding Aid for All (SAFE) School Act after the mass shooting.
The bill would create a $900 million grant program for public and private schools to train and hire former law enforcement officers and veterans to increase student safety.
Three nine-year-olds and three adults were murdered by a transgender gunman who entered the school with two "assault rifles" and a pistol.
A radical transgender group said the Nashville transgender shooter "had found no other effective way to be seen" than killing six people at a private Presbyterian school.
The Trans Resistance Network (TRN), a far-left transgender "collective," released a inflammatory statement Monday following transgender woman Audrey Hale's shooting at Covenant School Nashville, which killed three 9-year-olds and three adults .
Calling the mass murder a double "tragedy," the group wrote that the first was the deaths of children and adults at school, and offered its "deepest sympathies and heartfelt prayers to the families who are struggling with the loss of loved ones."
"All of these factors contribute to a population that is medically underserved and that often faces anti-trans prejudice in accessing medical care, leading to significant physical and mental health disparities," they continued.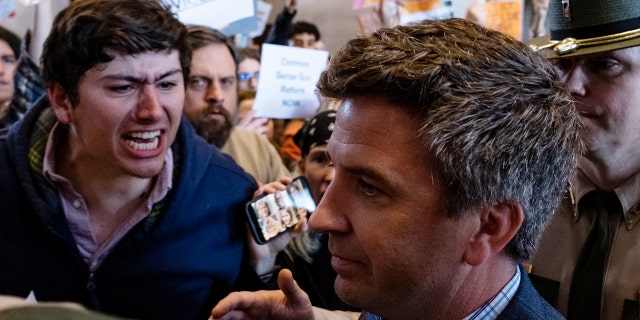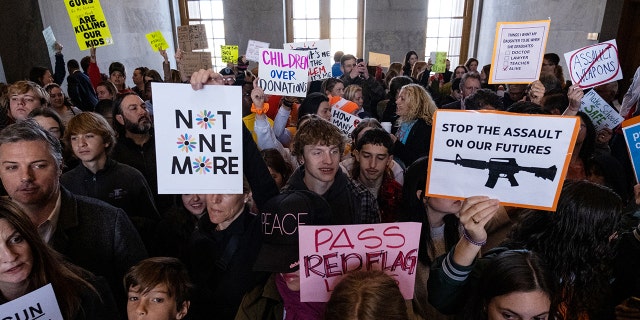 "Hate has consequences," the radical trans "collective" added.
CLICK HERE TO GET THE FOX NEWS APP
TRN then turned to praise transgender people after the shooting that killed three 9-year-olds and three adults at the Christian private school.
"It's a testament to the inner strength and beauty of transgender people that despite the overwhelming odds of homelessness, discrimination in the workplace, and constant anti-trans bingoism and violence, so many of us continue to persevere, survive, and even thrive. We will not be obliterated or erased."


Source : www.foxnews.com