It is "highly unlikely" that Russia will find anything useful if it manages to recover a US surveillance drone from the deep waters of the Black Sea, where it crashed earlier this week after colliding with a Russian fighter jet, Das said Pentagon on Thursday.
Pentagon spokesman Brig. Gen. Pat Ryder's comments come amid reports that Russia is scrambling to recover the wreckage of the MQ-9 Reaper drone.
Ryder echoed the claim of Joint Chiefs of Staff Chairman General Mark Milley that no sensitive material was compromised in the drone incident.
"We have indications that Russia is likely making efforts to attempt to recover MQ-9 debris," Ryder said. "However, we estimate that it is very unlikely that they can contain anything useful, given a number of factors."
RUSSIAN LEADERSHIP ORDERED FIGHTER JET PILOTS TO BE AGGRESSIVE WHEN INTERCEPTING US DRONE: SOURCES
Ryder didn't elaborate on those factors, but said the US took steps to protect "information" about the drone. He also noted that it plunged into "extremely deep water," complicating recovery efforts.
Ryder could neither confirm nor deny that Russia had deliberately ordered the attack, but denounced the pilot's behavior as "reckless" and "dangerous".
"Whether or not this is a coordinated effort, I can't tell you. What I can tell you is that it's totally inappropriate," Ryder said. "It's unsafe and unprofessional. There is a lot at stake."
He said the US had not asked for an apology from Russia.
US European Command said two Russian Su-27 flanker fighter jets intercepted the drone while it was operating in international airspace. It was said that one of the Russian fighters struck the MQ-9's propeller, prompting US forces to bring it down in international waters.
RUSSIA FLYING MORE ARMED PLANES OVER US BASE IN SYRIA, US CENTCOM COMMANDER SAYS
Previously, the Su-27s dumped fuel on the MQ-9 and flew in front of it several times in a "reckless, polluting and unprofessional manner," the US European Command said in a statement from Stuttgart, Germany.
Russia has insisted its warplanes failed to hit the US drone. Instead, it was said that the drone maneuvered sharply and crashed into the water after an encounter with Russian warplanes that were trying to intercept it near Crimea.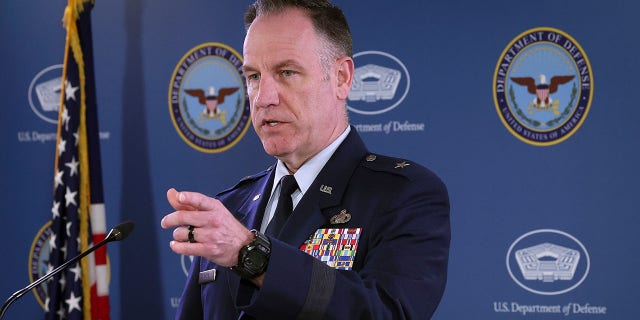 Russia's Defense Ministry said the US drone was flying over the Black Sea near Crimea and penetrating an area declared off-limits by Russia as part of its so-called "military special operation" in Ukraine, prompting the military to fighters to intercept it.
US European Command said the incident followed a pattern of dangerous actions by Russian pilots while interacting with US and allied aircraft over international airspace, including over the Black Sea.
CLICK HERE TO GET THE FOX NEWS APP
"These aggressive actions by Russian aircrew are dangerous and could lead to miscalculations and unintended escalations," she warned.
The Associated Press contributed to this report.


Source : www.foxnews.com