New video of a Trump-appointed federal judge being snubbed at Stanford University shows the law school's associate dean for diversity, justice and inclusion appearing to grin as she watches protesters yell at the man.
Judge Kyle Duncan, who serves on the US Circuit Court of Appeals for the Fifth Circuit, was invited by the Federalist Society to speak at Stanford on March 9, but was met by protesters holding signs and shouting at him. Protesters' complaints included how Duncan refused to use a transgender sex offender's preferred pronouns in a 2020 statement.
"What's your problem, man? Why are you showing up and putting that sign in my face?" Duncan asked a protester who held a sign referencing Duncan and a slang word for a female erogenous zone, according to video obtained exclusively by Fox News Digital.
The other protesters erupt in laughter as Stanford Law associate dean for Diversity, Justice and Inclusion (DEI) Tirien Steinbach turns to look at the sign before appearing to grin and then covers her face with her hands .
STANFORD DEI DEAN SLAMS INVITE FEDERAL JUDGES TO HIS FACE AT A CAMPUS EVENT
Steinbach takes her hands away while Duncan continues to ask the protester about the sign and remains in her chair without telling any of the students to calm down, the video shows.
Duncan was unable to deliver his speech at Stanford. Instead, Steinbach took over, claiming that Duncan was causing "harm" through his work as a federal judge. Steinbach also said she was "uncomfortable" with anger at Duncan's presence on campus.
"I had to write something down because I feel so uncomfortable up here. And I'm not saying that out of sympathy. I'm just saying I'm deeply, deeply uncomfortable," Steinbach said, standing a few feet from Duncan. "I feel uncomfortable because this event tears at the fabric of this community that I care about and want to support here.
AFTER "DIVERSITY" RULED DEAN HECKLES TRUMP JUDGE OUT OF REDE, STANFORD STUDENT CALLS ON ADMIN TO TAKE ACTION
"I have to wonder… is the juice worth squeezing? Is it worth it?"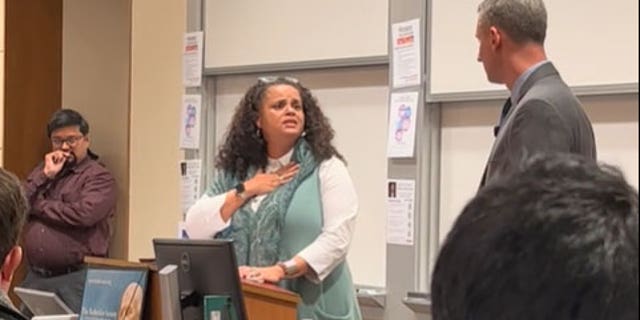 The eruption of protesters led to demands for the school to apologize to the judge, and Texas Republican Senator Ted Cruz suggested the school reprimand the students involved.
Cruz added that the associate dean "steered herself into the spotlight during the scheduled time of the event, stole the mic for over six minutes, and chastised and condescended Judge Duncan using her own prepared remarks."
HUNDREDS OF SILENT MASKED STUDENTS SURROUND STANFORD LAW DEAN FOR APOLOGY TO DESTROYED FEDERAL JUDGE: 'UNGER'
Stanford Law School Dean Jenny Martinez and Stanford President Marc Tessier-Lavigne eventually apologized to Duncan in a letter.
"We are writing to apologize for the disruption of your recent speech at Stanford Law School," the two said in a joint statement. "As has been previously communicated to our community, what happened was not consistent with our free speech policies and we deeply regret the experience you had while visiting our campus."
The apology sparked even more outrage from protesters, however, as hundreds of students gathered outside Martinez's classroom this week, dressed all in black and covering their faces with masks that read, "Response is free speech." The protesters formed a "human corridor" that stretched from the classroom to the school exit.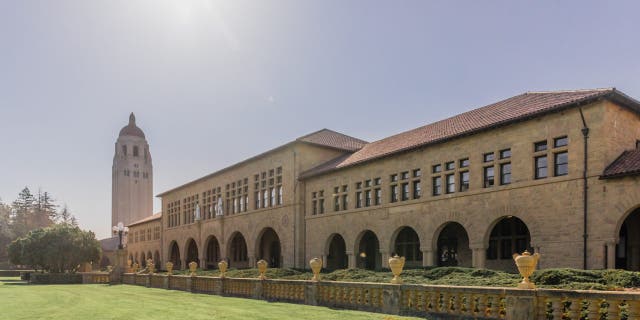 An anonymous student described the protest to The Washington Free Beacon as "eerie."
CLICK HERE TO GET THE FOX NEWS APP
Duncan has since said the school should discipline the protesters.
"If enough of these kids get into the legal profession," he told The Free Beacon, "the rule of law will descend into barbarism."
Stanford Law and Steinbach did not immediately respond to Fox News Digital's request for comment on the video.
Fox News Digital's Elizabeth Elkind and Nikolas Lanum contributed to this report.


Source : www.foxnews.com