EXCLUSIVE: More than two dozen conservative organizations have sent a letter to House Speaker Kevin McCarthy, R-Calif.
The 27-group coalition, led by Americans for Prosperity (AFP), argued HR 1, the Lower Energy Costs Act, would tackle energy-cost-fuelled inflation, calling it the "biggest challenge facing families and businesses." Overall, the legislation would boost domestic energy production while rolling back regulations and taxes, the letter, obtained exclusively from Fox News Digital, said.
"Families and businesses are facing historic inflationary costs caused by President Biden's war on American energy," AFP Vice President for Government Affairs Akash Chougule told Fox News Digital in a statement. "Now Congress has a real opportunity to cut costs by lifting the onerous taxes and regulations that stand in the way of an abundant, reliable supply of energy."
"The Lower Energy Costs Act would unleash America's energy wealth by accelerating construction and energy generation across the country," continued Chougule. "We call on Congress to quickly pass these bold reforms to bring down costs for all Americans, and we will hold those who stand in their way accountable."
BIDEN ADMIN'S WAR ON HOME APPLIANCES WILL CAUSE HIGHER PRICES, DIRITER CLOTHES AND JUDGMENT, EXPERTS WARN
In the letter, AFP and the other groups – including the America First Policy Institute, Heritage Action, the Competitive Enterprise Institute's Center for Energy & Environment, Americans for Tax Reform, Independent Women's Voice, the American Energy Alliance, the Texas Public Policy Foundation and The Heartland Institute – announced a number of provisions of the legislation.
For example, it was noted that the bill would eliminate new taxes on natural gas infrastructure, ensure regular oil and gas leasing on state lands and waters, remove permitting hurdles for pipeline development, streamline dual regulations related to natural gas production, and increase opportunities for mining companies to build a stronger supply chain for critical minerals in the US.
REPUBLICANS DEMAND BIDEN'S ENERGY SECRETARY TO WITHDRAW 'NON-SERIOUS' COMMENTS PRAISE CHINA
Industry groups have repeatedly warned that the Biden administration's actions have made it harder for companies to manufacture on federal land and made the US more dependent on foreign nations for both oil and key mineral resources needed for various green energy technologies.
"Voters understand the need to overcome the regulatory paralysis, onerous taxes and lavish spending that is holding back America's energy abundance," the letter said. "With this bill, the House of Representatives has delivered. We urge swift adoption and immediate Senate consideration. HR 1 would reverse the worst regulatory restrictions and taxes that are crippling supply chains for the production and delivery of affordable energy."
"By removing these bottlenecks in the energy supply chain, the law would help provide plentiful and affordable energy from a variety of sources."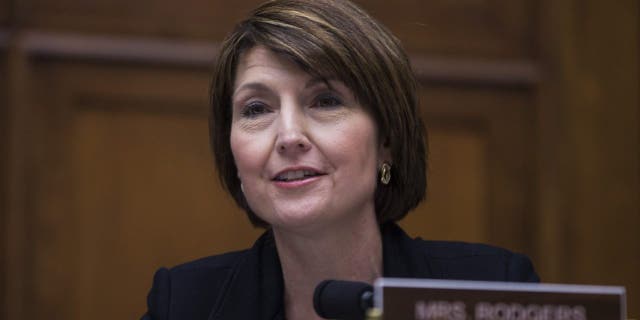 The Conservative coalition also welcomed the legislature's attempt to curb the National Environmental Policy Act (NEPA), a sweeping law requiring federal agencies to review the environmental impacts of projects before approval. However, cumbersome NEPA reviews take months, and often years, for the relevant authorities to complete, delaying federal approvals for key projects.
And the parliamentary groups applauded the Energy Cost Reduction Act for the rejection "green cronyism providing special interests at the expense of higher energy costs and deficits." They said in the letter that the law removes about $30 billion in funding for green energy projects and ensures Americans don't fund "payouts to activist groups and local electric brokers."
CLICK HERE TO GET THE FOX NEWS APP
"The Lower Energy Costs Act is a turning point against the Biden administration's war on affordable energy, which is fueling inflation and damaging the environment by unnecessarily shifting energy production to higher-impact countries and technologies," they concluded in the letter McCarthy.
"We commend your attention to this challenge and your commitment to reducing the cost of America's energy abundance."
On Tuesday, several House Republican leaders, including Energy and Trade Committee Chair Cathy McMorris Rodgers, R-Wash., and Natural Resources Committee Chair Bruce Westerman, R-Ark., introduced the bill and said, it would "address the energy crisis created by President Biden's disastrous policies."
McCarthy said in a statement that the bill will "grow our economy, strengthen our national security, and ensure clean, affordable American energy can power the world."


Source : www.foxnews.com