Democratic presidential candidate Marianne Williamson has had a very successful career encouraging people to shine a spotlight on the power of love and the importance of forgiveness.
But now Williamson, the best-selling author and spiritual advisor who launched her second straight campaign for the White House earlier this month and is the first Democrat with a national following to challenge President Biden in the first place, is facing allegations from former political staffers confronted that affect their public image is in stark contrast to their private behavior.
According to a report published Thursday by Politico, a dozen people who worked with Williamson on her 2020 presidential campaign say she "exposed her staff to unpredictable, explosive outbursts of rage. They said Williamson could be cruel and demeaning to her staff and that her behavior went well beyond the typical stress of a grueling presidential cycle."
Williamson calls the allegations "defamatory" and "categorically false".
MARIANNE WILLIAMSON STARTS PRIMARY CHALLENGE AGAINST BIDEN
Former two-year Rep. Paul Hodes of New Hampshire, who served as Williamson's state secretary in 2020 in the nation's crucial primary state, corroborates the report.
IN FOX NEWS INTERVIEW, WILLIAMSON GOES DEMOCRATS THAT THEY 'DELAYED' THEIR CHALLENGE AGAINST BIDEN
"What Politico reported was entirely consistent with what I saw at the campaign and what I personally experienced with her on multiple occasions," Hodes, quoted in the report, told Fox News on Thursday.
Hodes said: "There are several reasons why I'm not helping her this time. Your behavior is one reason."
"It is important that we have a president with the right temperament," he said. "It's really important to have a lead that stays calm under pressure. The presidency is a very stressful job… You really need leadership that can remain calm under pressure."
THE TIME MARIANNE WILLIAMSON LEADED A MEDITATION SESSION ON THE CAMPAIGN PATH
According to former campaign workers interviewed by PoliticoWilliamson's outbursts included throwing phones at employees, and in one instance, the candidate became so enraged by the logistics of a campaign trip that she banged on a car door until her hand swelled, forcing her to go to an emergency care facility.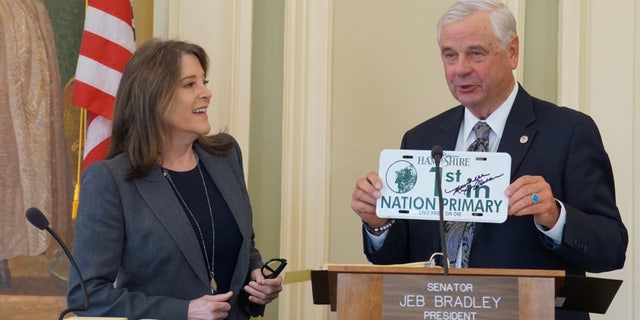 In a statement to Fox News Digital, Williamson's campaign dismissed the report as an attempt to smear her presidential bid.
CLICK HERE TO GET THE FOX NEWS APP
Williamson said, "Former employees trying to score points with the political establishment by slandering me could be good for their careers, but the intent is to divert attention from the important issues facing the American people… These Presidential campaign awaits concerted efforts to sack and vilify us. But amplification of outright lies should not occur."
Williamson also denied ever throwing a phone at employees. However, she admitted she went to the emergency room after getting upset and banging her hand on a car door, but said: "A car door is not a person. I would never physically hurt a person."


Source : www.foxnews.com