Immigration and Customs Enforcement (ICE) announced Friday that it had arrested 220 illegal immigrants in a nine-day enforcement operation with criminal convictions, including rape and murder.
ICE said its Enforcement and Removal Operations (ERO) arrested 220 "removable non-citizens" with convictions including domestic violence, sexual abuse, burglary, gun crime, drug trafficking and drunk driving. The arrests took place between March 4th and 13th.
Those arrested included a 64-year-old Mexican man convicted of sexually abusing a victim under the age of 13 last year, a 37-year-old Mexican man convicted of attempted murder and a 65-year-old Mexican man convicted of second-rate murder had been convicted. degree murder and assault with a deadly weapon. Also arrested was a 49-year-old Mexican man convicted of assault and criminally assaulting a spouse through violence/fear.
Other illegal immigrants arrested were a 20-year-old Cuban convicted of second-degree murder last year, a 33-year-old Nicaraguan convicted of armed burglary, a 50-year-old El Salvadoran convicted of sexual abuse sexual contact with a child under 11 and a 44-year-old Mexican man convicted of sex crimes with a child under 11.
ICE DEPORTATIONS OF ILLEGAL IMMIGRANT CRIMINALS FALL SHARPLY BELOW BIDEN
ICE said the operation demonstrates the agency's "focus on intelligent, effective enforcement of immigration policies that protects the homeland by apprehending and removing those who undermine the security of our communities and the integrity of federal immigration law."
"Our teams balance various factors in the tracking and arresting process to ensure we are enforcing U.S. immigration laws humanely, effectively and with the utmost professionalism," said Corey Price, ERO's Executive Associate Director, in a statement.
ICE DEPOSITS REMAIN WELL BELOW TRUMP-ERA LEVELS IN FY2022, WITHIN THE HISTORICAL BORDER CRISIS
ICE's ERO arrested 46,396 illegal immigrants with criminal records last year. The agency said these included 198,498 related charges and convictions.
However, ICE's footprint was reduced under the Biden administration. After failing to impose a moratorium on deportations, the government narrowed ICE's priorities to recent cross-border commuters, national and public security threats. Those guidelines have now been blocked by a federal judge.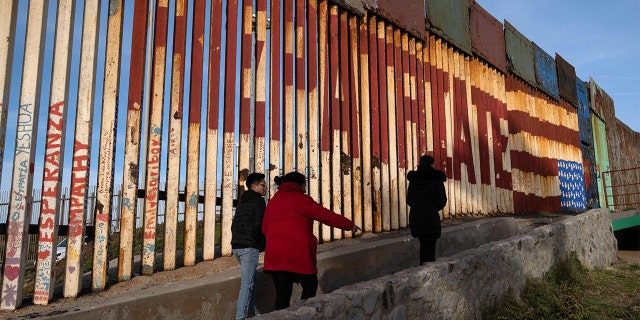 A recent DHS budget survey showed that ICE is reducing deportations of criminal illegal immigrants.
In fiscal 2020, the last full year of the Trump administration, the agency sought to deport 151,000 convicted criminal illegal immigrants and deported just over 100,000. In FY2021, the target was 97,440 and only 39,149 were removed. By 2022, the Biden administration's first full fiscal year, the target had dropped to 91,500 and just over 38,000 had been deported.
FORMER TRUMP OFFICIALS ARE SKEPTICAL ABOUT BIDEN ADMIN'S REPORTED PLAN TO RESUME DETENTION OF MIGRANTS' FAMILIES
The agency has now lowered targets for fiscal years 2023 and 2024 to just 29,393 deportations per year.
In a statement, ICE said it was taking "all possible measures to reduce factors affecting deportation performance, including ongoing efforts to achieve increased cooperation with foreign countries and increase the frequency of detainee transports where possible."
The agency suggested that hiring more deportation officers and attorneys to improve docket management could help break down "roadblocks and inefficiencies" before proposing policy changes by the Biden administration the COVID-19 pandemic, are responsible for the decline in numbers.
"However, it is important to note that significantly low distance numbers are the result of environmental factors and policy frameworks rather than operational performance," it said.
Meanwhile, ICE's DHS sister agency — Customs and Border Protection (CBP) — announced Friday that border patrol officers in the Rio Grande Valley sector had arrested four gang members and a sex offender among migrants they encountered this week. One of the men is a 41-year-old Mexican man who had a criminal record for sexually abusing a minor in Indiana, while agents in McAllen, along with a Mexican man, also arrested a gang member from the Paisas, MS-13 and Wild Mexicans from El Salvador with a criminal record for aggravated assault with a deadly weapon and manslaughter.
This comes just days after Border Police chief Raul Ortiz told lawmakers the southern border is not under operational control.
CLICK HERE TO GET THE FOX NEWS APP




Source : www.foxnews.com