FIRST ON FOX: A Republican Congressman80 pastors and their spouses performed a soulful rendition of "Amazing Grace" in the rotunda of the US Capitol during a tour.
Rep. Mike Johnson, R-La., led a Guide through Christian history of the Capitol Tuesday night, made up of 80 pastors and their spouses from 16 states, as well as several current and former lawmakers.
In the Capitol Rotunda, the group sang their praises to the Almighty in a moving rendition of the classic Christian hymn that echoed through the dome.
Pastor slams reporter who refuses 'prayers' after NASHVILLE filming: 'We must love each other'
"I always enjoy guiding friends and visitors through these sacred halls, and it was a privilege to take this group of faith leaders on a special tour of the Capitol last night," Johnson told Fox News Digital.
"You have been greatly encouraged to see and be reminded of the religious and moral foundations of our country," the Louisiana Republican continued. "In these times of great division, all Americans would do well to be reminded of these truths and important heritage."
"Services used to be routinely held in the Capitol, and it is always moving to hear prayers and hymns echoing in the rotunda today," he added.
The tour touched on the Christian history of the Capitol, the Founders, and America itself.
Johnson led the tour, which also included fellow Senator Tim Scott, RS.C. – who was not on tour at the time of the anthem – as well as former Rep. Bob McEwen, R-Ohio, and Christian author David Barton.
The Louisiana Republican led a similar tour last week for another group of faith leaders who were praying and singing in the Capitol.
The faith leader's anthem came the day after the nation came to a standstill when a mass gunman killed three nine-year-olds and three faculty members at a Christian private school in Nashville.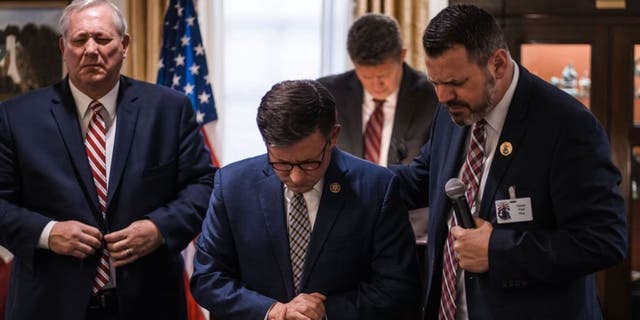 The former Covenant Presbyterian pastor in Nashville, Tennessee, declined to advocate for stricter gun laws after a reporter questioned whether prayers after the mass shooting were enough.
CBS asked Pastor Jim Bachmann if he agreed with calls for more "action" rather than "thoughts and prayers."
"I've heard so many people say lately, people of faith, 'I don't want your thoughts and prayers, I don't want to hear your thoughts and prayers, I want action.' As a man of faith, you will be officiating at Mike Hill's funeral next week. You will preside. What do you say to those who say it?" asked reporter David Begnaud.
Bachmann, who was friends with murdered janitor Mike Hill, began saying he had not yet written his eulogy when the reporter pressed gun control again.
"But to 'We don't need your thoughts and prayers, we need actions', what do you say to that?" he asked. Begnaud clarified that he was specifically referring to the passage of further gun laws.
"That's a little above my pay grade," the pastor replied.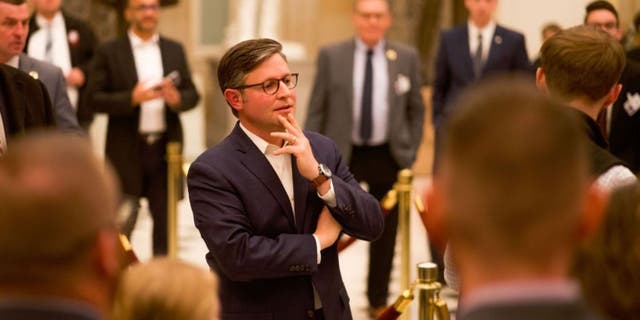 Instead, Bachmann said that a cultural and spiritual change is needed in our society.
"I think what I'm saying is that we need to love one another, and we need to learn to disagree in a comfortable way and learn how to forgive," he replied. He continued to call for peaceful dissent instead of violence.
"You know, people with different ideologies, different theologies, different backgrounds, it's okay to disagree. But it's not okay to shoot at each other, and especially children and innocent victims," ​​Bachmann said.
CLICK HERE TO GET THE FOX NEWS APP
The man of God then quoted Jesus to the reporter and viewing audience.
"And so the gospel message is, we love our neighbor as ourselves. And try to carry each other's burdens and work through them, no matter what the problems – we all have problems. And you know, we all need help at times in our lives," Bachmann said, adding that part of his role is to help people with their problems as a pastor.
Fox News Digital's Kristine Parks contributed coverage.


Source : www.foxnews.com