California Republican Assembly member Joe Patterson called on Democratic lawmakers to play "partisan politics" after Democrats rejected a Republican bill that would increase penalties for sex crimes. Just a day later, they approved a Democratic bill to increase criminal penalties for theft and vandalism of high-value property.
"I'm more concerned about the safety of Californians, but it seems like some lawmakers are more interested in partisan politics." Patterson, R-Granite Bay (Placer County), told Fox News Digital.
On March 15th, California Democrats were killed Assembly Law 229 von Patterson to classify domestic violence, human trafficking and other sex crimes as violent crimes in the state. Under current California law, human trafficking is defined as a "non-serious" and "non-violent" crime.
Assembly Bill 229, entitled Violent Felonies, was shot down by the Democratic supermajority, with six Democrats voting against Patterson's bill and the two Republicans voting in favor.
The chairman of the assembly's Public Safety Committee, Reggie Jones-Sawyer, a Democrat, did not respond to Fox News Digital's request for comment.
CALIFORNIA'S RURAL COMMUNITY LEAVES ITSELF AS POLICE PERSONNEL SHORTAGES PUT DAILY PATROLS TO THE END
A day after voting against Patterson's bill, the committee deliberated Assembly Law 484 by Jesse Gabriel, Assembly Member, D-Woodland Hills (Los Angeles County) to extend sentences for individuals convicted of stealing, damaging or destroying property valued more than $275,000.
The Assembly's Bill 484, titled Sentence Improvements: Loss of Property, received bipartisan support, with five Democrats and two Republicans voting in favor of Gabriel's bill.
"Doesn't make sense to me why the Capitol Democrats don't agree that domestic violence and human trafficking should be violent crimes, but damaging property deserves tougher penalties." Patterson told Fox News Digital. "Your priorities are inconsistent at best."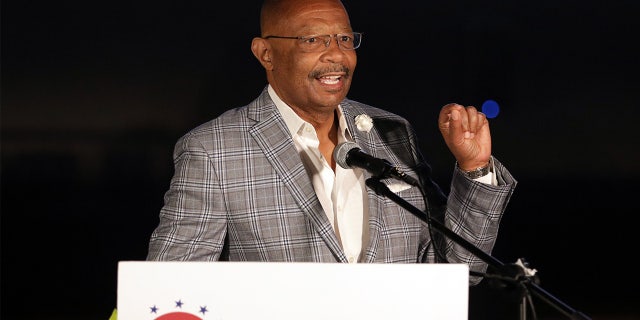 CALIFORNIA ENGLISH TEACHER CLAIMS SUBJECT CHILDREN TO DRAG THAN TEACHING SHAKESPEARE
Some lawmakers agreed with Patterson.
"It feels like a very slippery slope here when we're talking about improvements," Member of Parliament Liz Ortega, D-Hayward, told the San Francisco Chronicle. "We can't say yes to some and no to others."
On March 15, Democratic lawmakers advanced Assembly Law 467 And Assembly Law 304which would make it easier for lawmakers to amend domestic violence injunctions and provide resources to individuals convicted of domestic violence crimes.
CLICK HERE TO GET THE FOX NEWS APP
The advancement of the two bills, Assembly Bills 467 and 304, bolstered Republican arguments that Democratic lawmakers were being hypocritical about their combined efforts to kill Patterson's domestic violence and sex crimes bill.


Source : www.foxnews.com